The Mannlicher Model 1899-1900 series of pistols were created by Austrian Ferdinand Ritter von Mannlicher who is perhaps best known for his collaborative work in the design of the iconic Mannlicher-Schönauer rifle.
This model Mannlicher pistol was one of the most beautiful semi-automatic pistols created and they proved to be quite popular with officers of the Austro-Hungarian military and in Argentina.
Fast Facts
The Mannlicher Model 1900 pistol was a part of the lineage that led to the development of the Model 1901 and 1905.
The Model 1900 bears the distinction of being one of the most aesthetic designs of any pistol and one which very much lent itself to engraving and artistic decoration – the pistol itself being a work of art.
A very unusual fully engraved Mannlicher Model 1900 pistol is coming up for sale by Rock Island Auction on 27, August 2023 and you will find the sale page here.
Before his work on the Model 1899-1900 Ritter von Mannlicher had done some designs which proved to be unpopular and so this completely new design was done to address the criticisms of its predecessors.
At this time in history the designers of the new generation of automatic pistols were generally trying to solve the problem of making a pistol that was light and instinctive to use, with moderate recoil, and similarly light and easy to carry.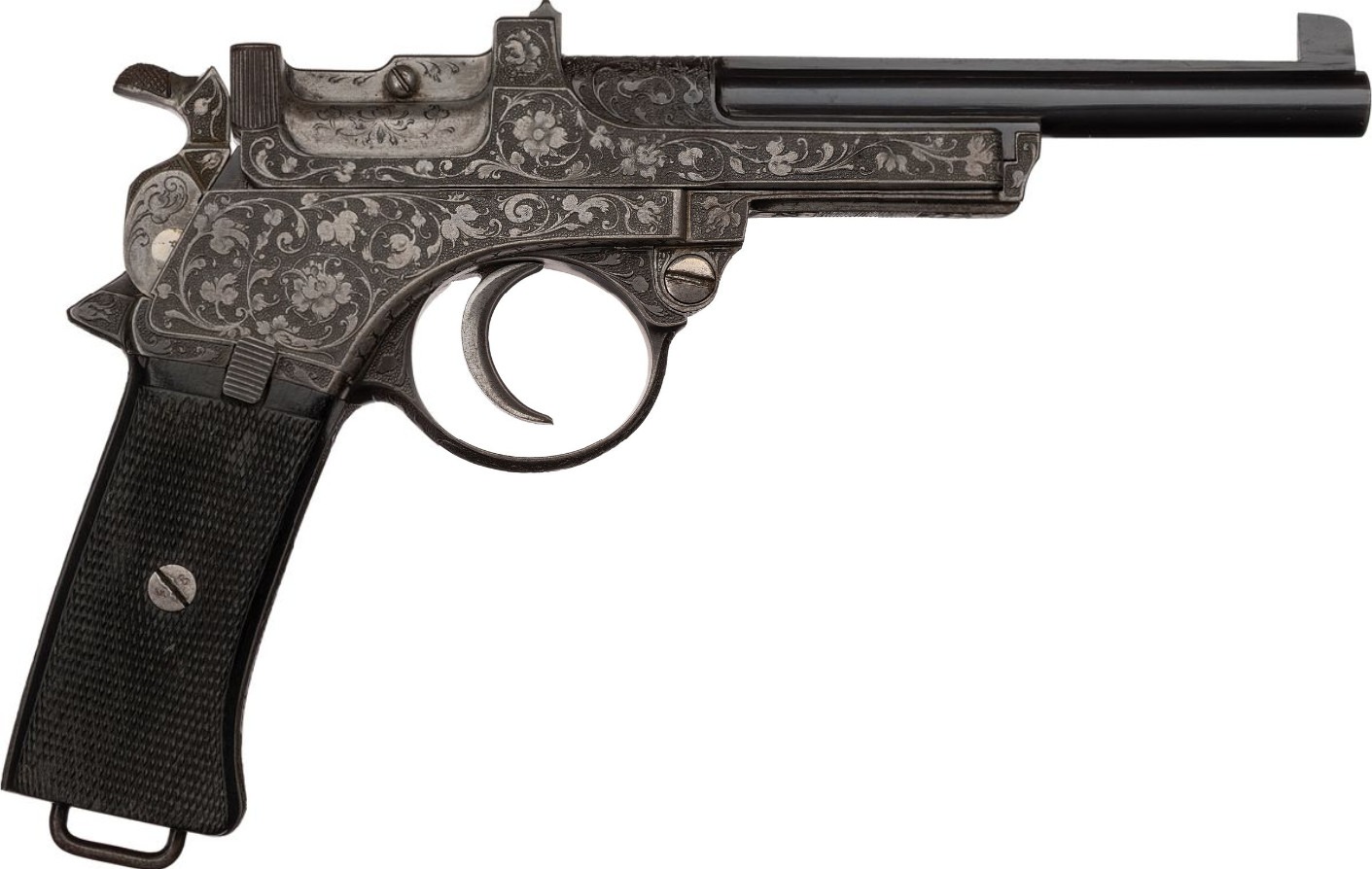 To this end the cartridges designed for this new technology of smokeless powder and higher velocities  used smaller bore projectiles by comparison with the revolvers of the black powder era.
For example Georg Luger's pistol was made for the 7.65×21 mm (7.65 Luger) before the advent of the 9mm Parabellum, and John Moses Browning was creating pistols in .32 and .38 calibres before he was asked by the US military to make an automatic pistol in .45 calibre.
For his new pistol Ritter von Mannlicher initially settled on an 8mm straight walled cartridge which most likely positioned it between the .32 and .38 (9mm) cartridges being created by his contemporaries.
The design and power of the cartridge was a critical factor in the design of a pistol and Ritter von Mannlicher wanted to create a pistol that was a design that was also a work of art, and he succeeded in that.
By opting for his 8mm cartridge Mannlicher was able to use a delayed blowback mechanism, which in turn made his 1899-1900 pistol relatively uncomplicated, and he was also able to give it one of the best triggers of any automatic pistol of the time.
The moderate power cartridge and delayed blowback operation enabled Mannlicher to keep his pistol slender, and thus graceful, and made it a pistol that just feels good in the hand while being instinctively point-able.
The 8mm cartridge proved to be unsatisfactory however and so Mannlicher created a 7.63 mm cartridge that produced higher velocity and higher energy, so on paper at least supposedly more power. This new cartridge having been about on a par with the ballistics of the .32 Harrington and Richardson Magnum pistol cartridge.
The Mannlicher Model 1900 was such a pretty handgun that it lent itself naturally to engraving and decoration and one of the ways in which the pistol was promoted was to create presentation models that would make it a suitable gift for dignitaries and people in power, and for people looking for a pretty and unique pistol.
The Model 1900 was a developmental model and it would be improved and refined to later become the Mannlicher Model 1901 and 1905.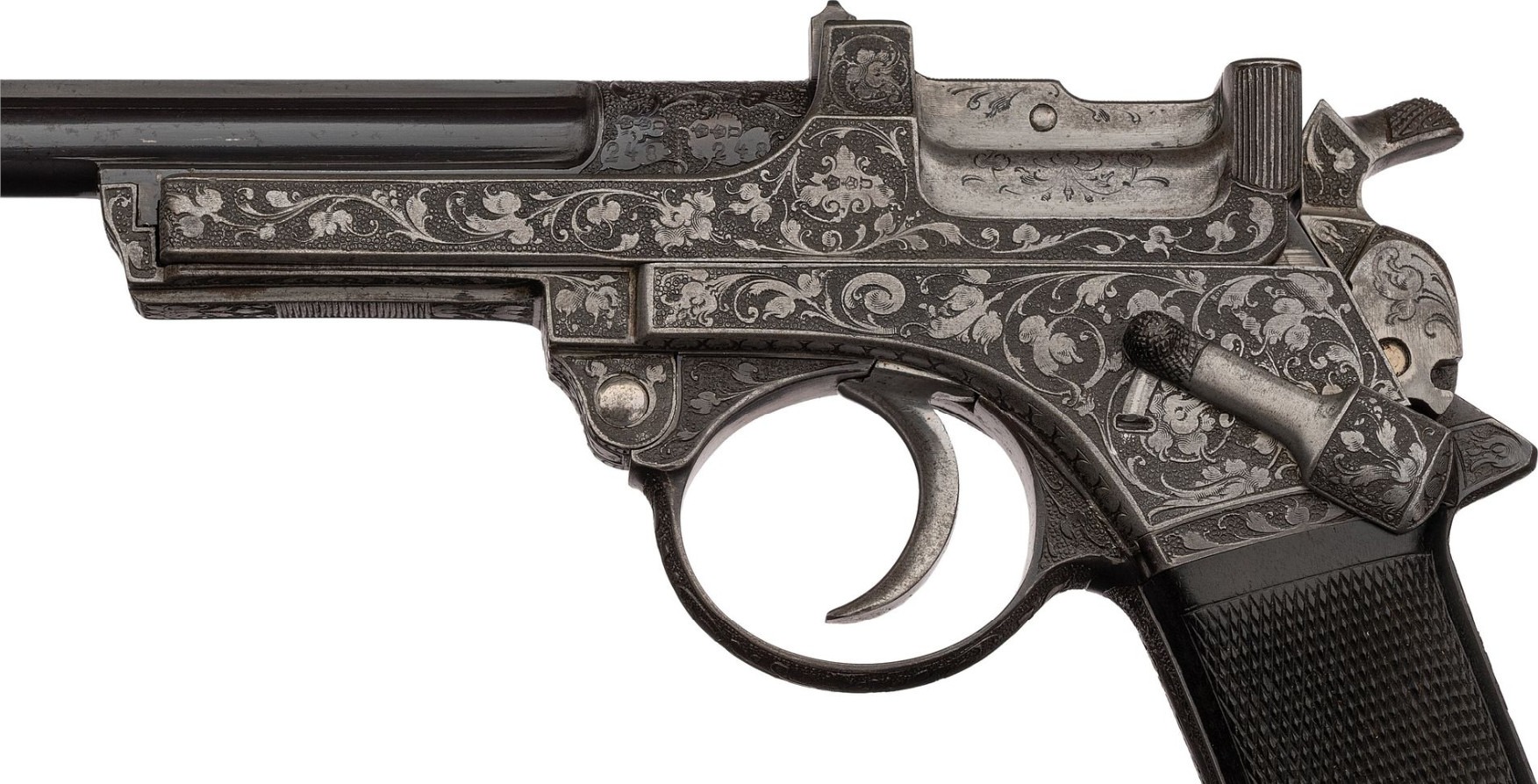 The first fifty or so of the 1900 model did not feature a safety catch, and this was not something that potential buyers were particularly happy about: so Mannlicher added one on the upper left side.
The 1899-1900 pistols also required a screwdriver for disassembly which was again something that potential military buyers were not content to live with, so the screw was replaced with a tab lever on the 1901 model.
These Mannlicher pistols were also unusual in that they did not have a detachable magazine. We need to remember that this was the pioneering era for the automatic pistol and so innovation was king and designers were still figuring out the features that would be best and those that would not.
Mannlicher designs, both rifle and pistol, favoured the use of stripper clips for loading rather than detachable magazines: and so this idea was carried into the Mannlicher pistols of 1899-1900 and 1901-1905, which had a magazine capacity of eight rounds.
If you think about, for example, a cavalry officer on his horse in a combat situation: an exhausted detachable magazine would have to be withdrawn and put somewhere so it did not get lost, and then a fresh loaded magazine inserted. But with a pistol that uses a stripper clip loaded with cartridges the action locks open on the last shot, the stripper clip is stripped into the fixed magazine, and the clip itself can be dropped or thrown away.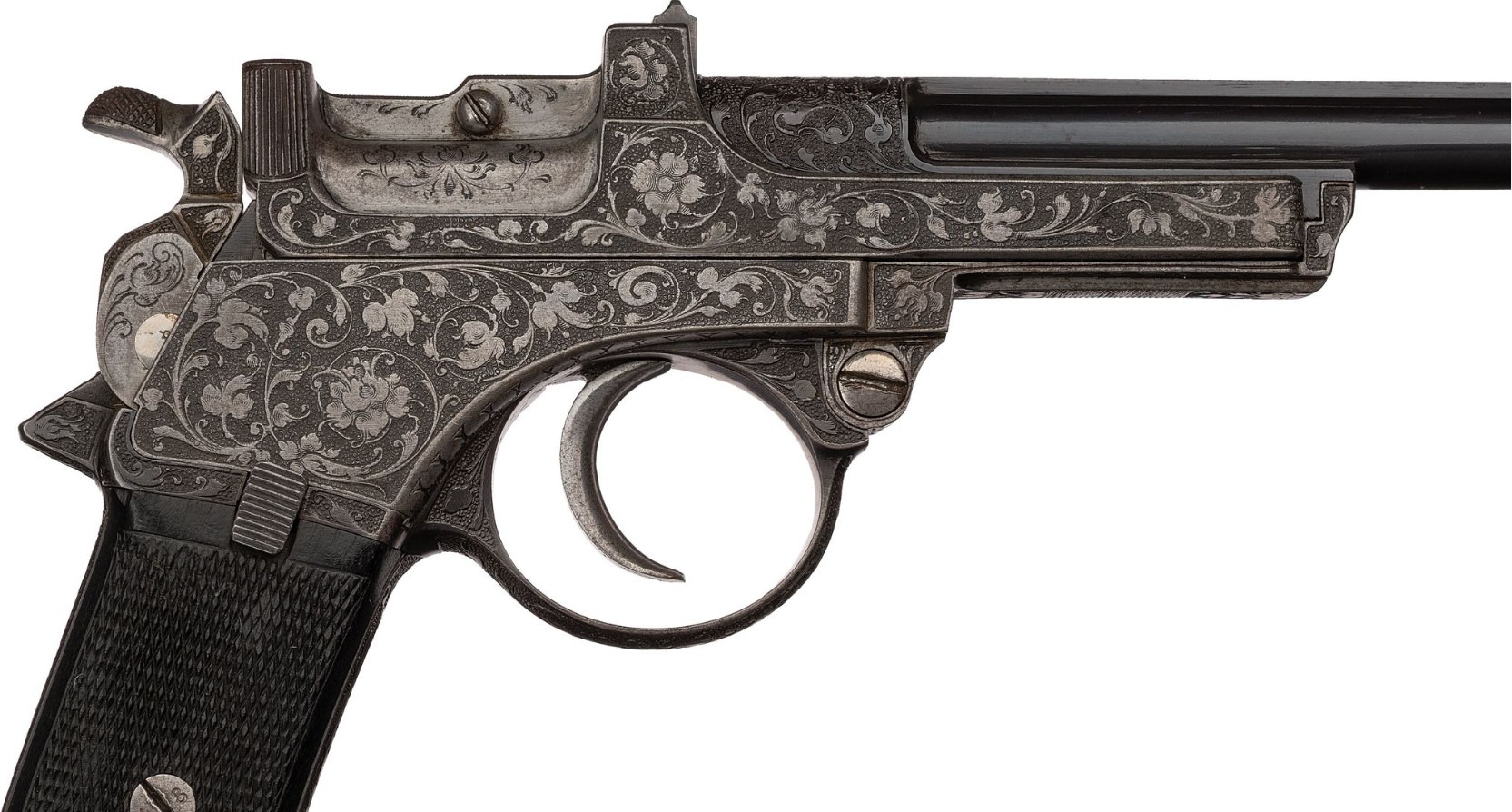 To unload the pistol there is a button on the left side of the grip which is pressed up, and this ejects the cartridges into the waiting hand. This is similar in function to the button on the Schönauer rotary magazine of Mannlicher-Schönauer rifles used to empty the magazine.
Only about two hundred and fifty examples of the Mannlicher Model 1900 were made making these a quite rare item: and engraved presentation grade examples are even more rare.
A fully engraved example of a Mannlicher Model 1900 is coming up for sale by Rock Island Auction on August 27, 2023.
This pistol is fitted with the safety catch and is chambered for the Mannlicher 7.63×21 mm cartridge.
You can find the sale page for this rather unusual pistol here.

Picture credits: All pictures courtesy Rock Island Auction.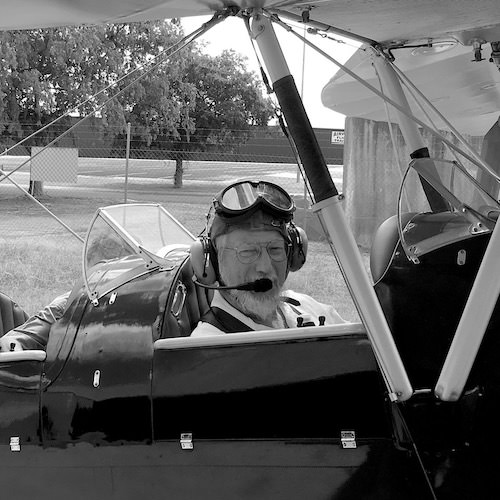 Jon Branch is the founder and senior editor of Revivaler and has written a significant number of articles for various publications including official Buying Guides for eBay, classic car articles for Hagerty, magazine articles for both the Australian Shooters Journal and the Australian Shooter, and he's a long time contributor to Silodrome.
Jon has done radio, television, magazine and newspaper interviews on various issues, and has traveled extensively, having lived in Britain, Australia, China and Hong Kong. His travels have taken him to Indonesia, Israel, Italy, Japan and a number of other countries. He has studied the Japanese sword arts and has a long history of involvement in the shooting sports, which has included authoring submissions to government on various firearms related issues and assisting in the design and establishment of shooting ranges.