Rolls-Royces have not always been boring. When the company was created back in 1906 they created cars for the wealthy including the creatively eccentric wealthy who liked to engage in adventurous activities in their Rolls-Royces. Rolls-Royce cars went to war in World War I and amongst others T.E. Lawrence (aka Lawrence of Arabia) used one to drive around the desert whilst he was blowing up railway lines and generally doing his best to annoy the Ottoman Empire and their German allies. In the twenties and thirties Rolls-Royces were bought and customized by rich people and rulers throughout the British Empire including Maharajas, Sultans and Nizams for whom Rolls-Royces were favored as cars for "Shikar" (i.e. Hunting, especially tiger hunting, but also gaur and elephant etc.). The best example of these Shikar Rolls-Royce hunting cars is the one custom made for the Maharaja of Kotah in 1925 which included a rifle rack, howdah pistols, and a machine gun on a gun carriage towed behind the vehicle in case the tiger proved to be especially difficult.
When did all this Rolls-Royce creativity come to an end? I think it progressively ended during the fifties in a world that was still trying to recover from the Second World War. A world that had lost its heart for adventure and creativity; and, I think, because of the emergence of the artificial pseudo adventure and "creativity" of the "entertainment industry", a world that doesn't seem to have been able to recover it yet.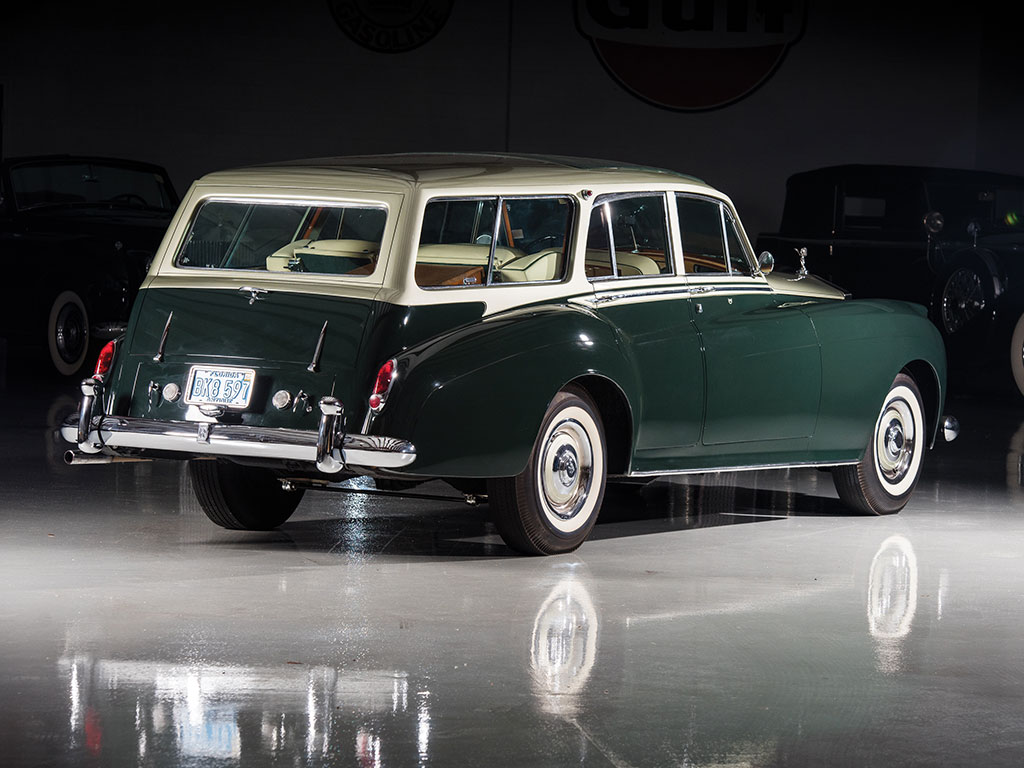 Thus it was that Rolls-Royce were progressively re-defined as makers of luxury cars designed to be boring status symbols for wealthy people. The exotic chemistry of Rolls-Royce quietly vanished and so people looking for an adventurous creative car would not buy a Rolls-Royce anymore. Some in the entertainment industry decided to express their "creativity" by painting their cars in psychedelic designs and such like but entertainment industry "adventures" are always somehow lacking. Perhaps with the possible exception of Keith Richards Bentley "Blue Lena" and journey to Morocco.
Which brings us to the Rolls-Royce Silver Cloud I shooting brake coming up for sale by RM Sotheby's at their Amelia Island auction to be held over 10-11 March 2017. It doesn't have built in rifle racks nor howdah pistol holsters, but it was a Rolls-Royce that was ordered and customized to be a genuine adventure car. It was built for road trips from the USA down into Mexico and is fitted with a three way "city/country" air horn system for "blasting" nature's wild things off the highway so they don't hurt themselves in a collision with that beautiful Velvet Green and Sage paint work.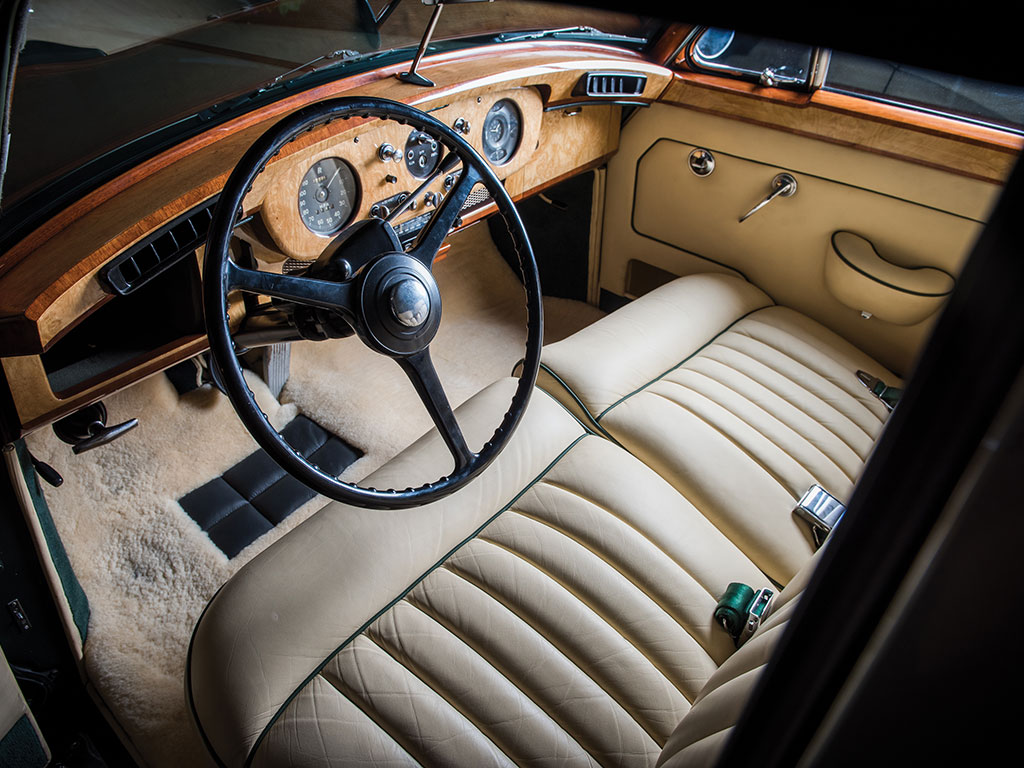 This Rolls-Royce was one of just two built on the short wheelbase chassis by Rolls-Royce with H.J. Mulliner and the London shop of Harold Radford. The H.J. Mulliner and Radford craftsmanship is flawless as one would expect and the resulting car is one worthy of the Rolls-Royce tradition of purpose built adventure cars such as this gentleman's shooting brake/hunting car. The exterior is a subtle blending of practicality and gracefulness, the interior one of restrained elegance with comfort needed for hours behind the wheel or in the passenger seats. Extra factory fitted equipment includes a Webasto folding fabric sunroof with wind deflector, factory air conditioning, a 202R radio, Marchal sidelights, and coat hangers.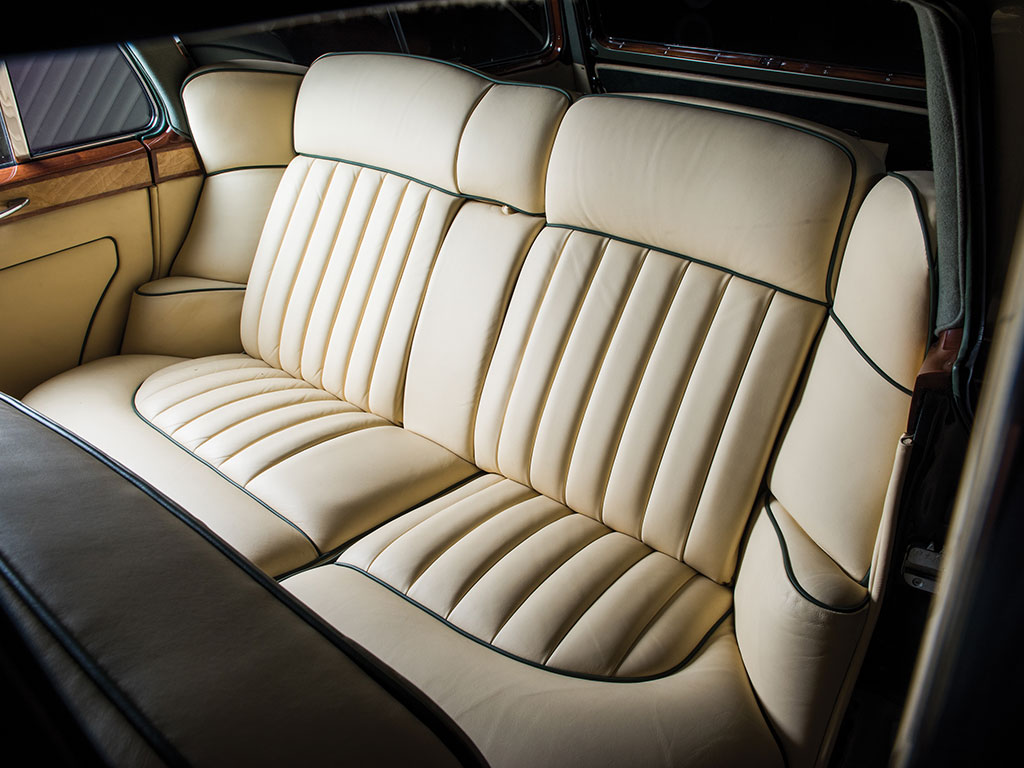 The Radford work included the ability to convert the interior into beds for sleeping in the car when desired. Sleeping in a nice comfortable bed in a Rolls-Royce is greatly preferable to sleeping in a tent on a camp stretcher and makes adventures so much more enjoyable.
This 1959 Rolls Royce shooting brake has the standard 4,887 cc F-head in-line six-cylinder engine mated to a smooth four-speed automatic transmission. This is the older traditional Rolls-Royce engine that is both wonderfully smooth and wonderfully reliable. Its a perfect match to the style and purpose of the vehicle. Suspension is the standard independent front with unequal wishbones and coil springs, and semi-elliptical leaf springs with live axle at the rear, which is a perfect choice for a vehicle that will be expected to carry a significant load from time to time.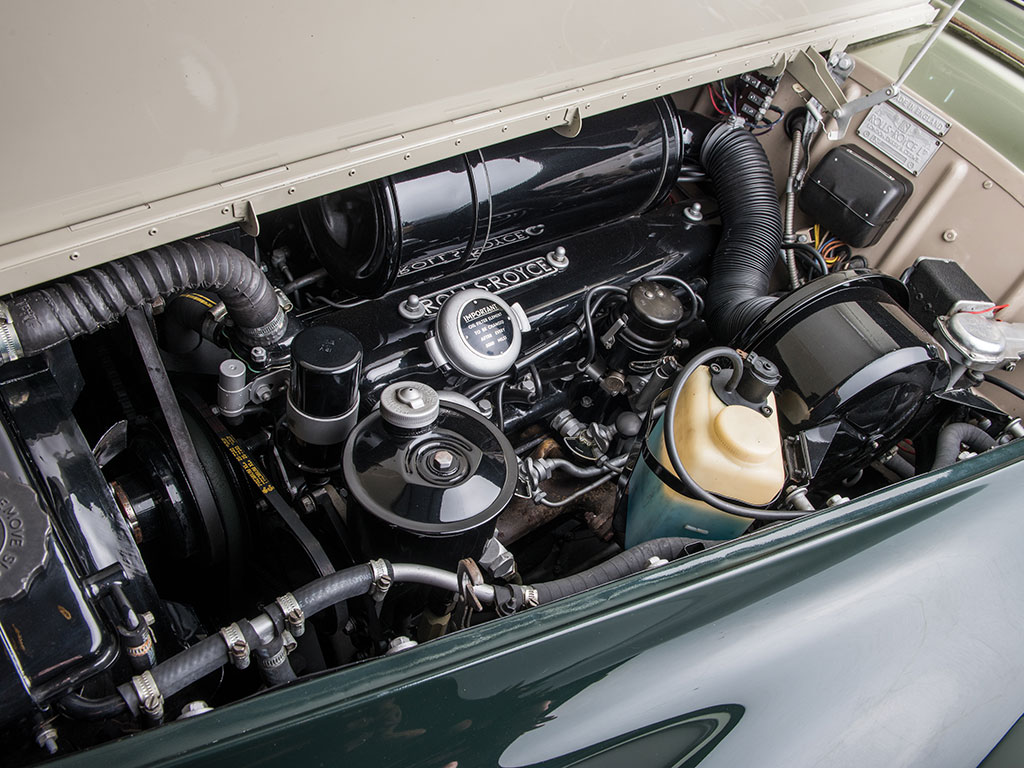 Brakes of this car are the standard hydraulic front and mechanical servo-assisted rear drums and as an additional safety feature we note there are seat belts fitted for the driver and front seat passenger.
The car is complete with original tools and being a 1959 automobile it has a proper spare tire as it was built before the not so practical "space saver" spares were invented.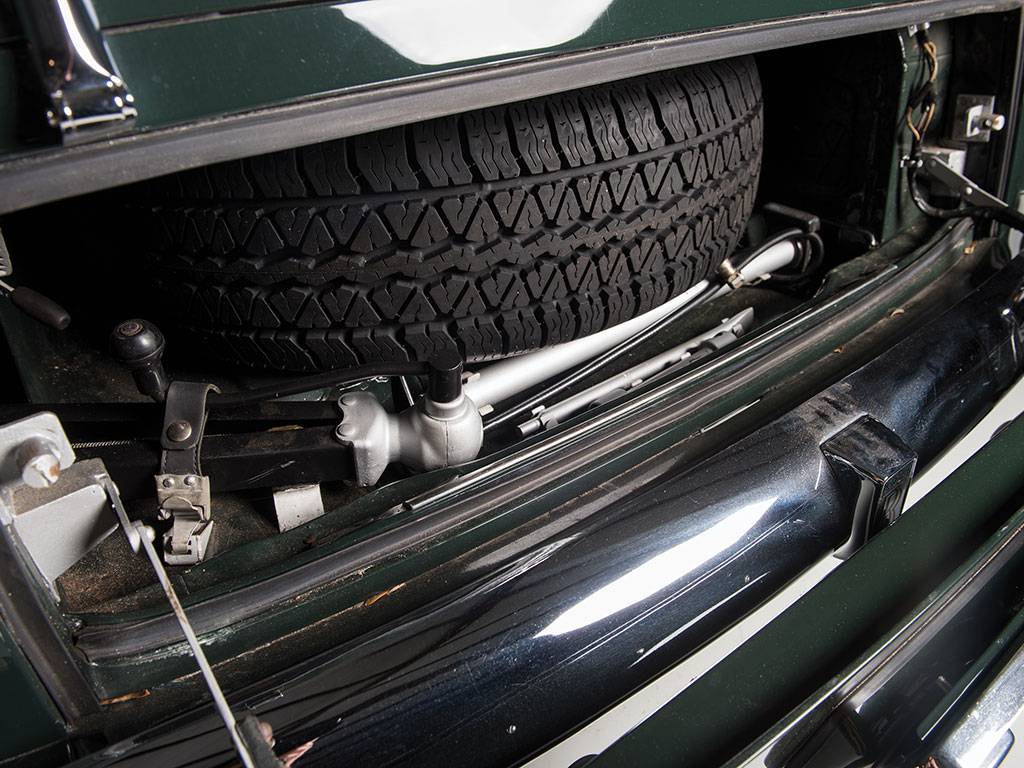 With the car comes original fitted luggage that will nicely compliment your leather and canvas rifle or gun cases.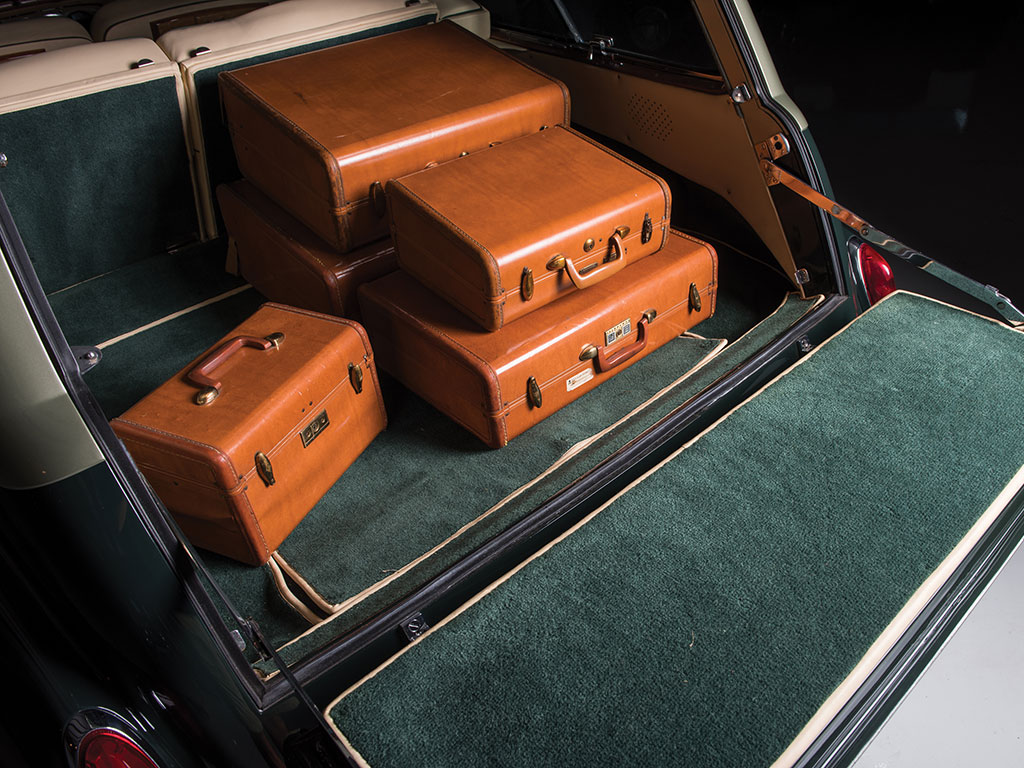 This 1959 Rolls Royce Silver Cloud I shooting brake is an example of the last of the halcyon days of Rolls-Royce when they were still building cars for adventurous clients and not just for those looking simply for status. It is a car that marks the end of an era. We hope it goes to an appreciative home and to a new owner who will use it in the spirit of the adventurous Rolls-Royce owners of old. Its a car that has a few more adventures left in it yet.
You will find the sale page for this delightful shooting brake if you click here.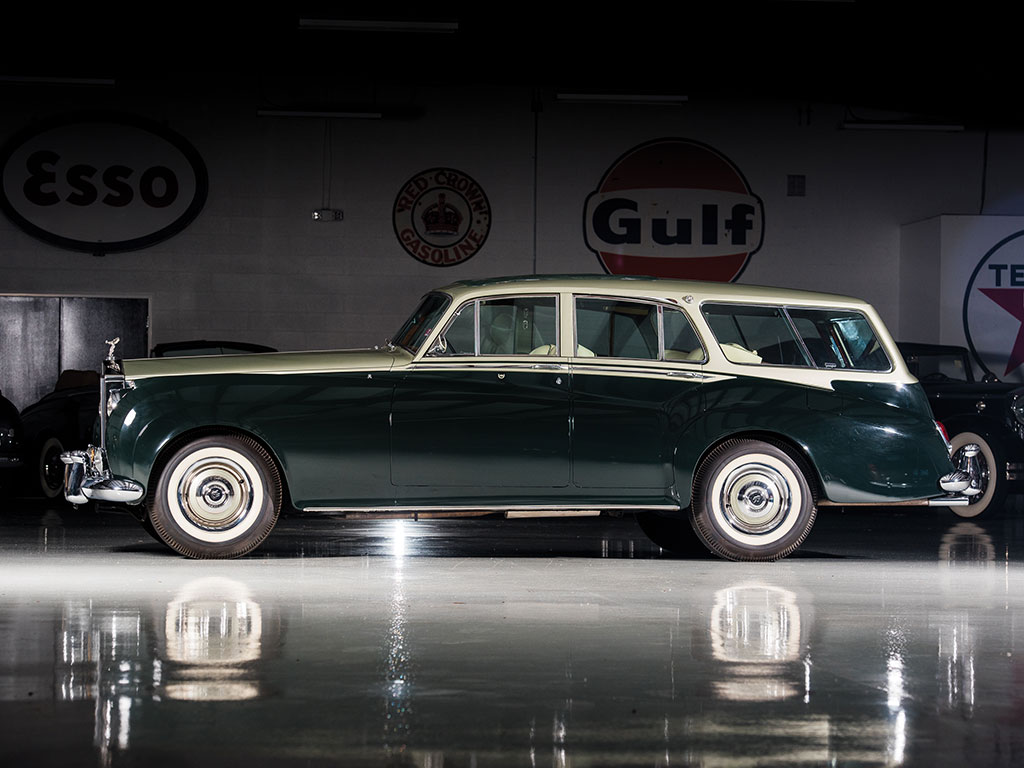 (All pictures courtesy RM Sotheby's).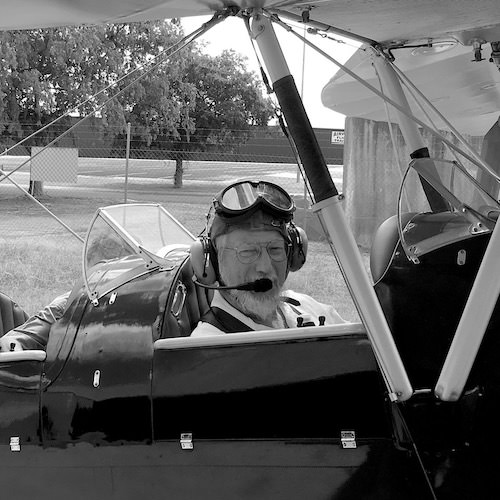 Jon Branch is the founder and senior editor of Revivaler and has written a significant number of articles for various publications including official Buying Guides for eBay, classic car articles for Hagerty, magazine articles for both the Australian Shooters Journal and the Australian Shooter, and he's a long time contributor to Silodrome.
Jon has done radio, television, magazine and newspaper interviews on various issues, and has traveled extensively, having lived in Britain, Australia, China and Hong Kong. His travels have taken him to Indonesia, Israel, Italy, Japan and a number of other countries. He has studied the Japanese sword arts and has a long history of involvement in the shooting sports, which has included authoring submissions to government on various firearms related issues and assisting in the design and establishment of shooting ranges.