I was casually looking through the 2017 RWS Hunting Ammunition catalog recently thinking about what I might like to try in my .300 Winchester Magnum sometime, and whilst looking at the data sheets I noticed a couple of loadings listed as suitable for buffalo. These were the 180grain UNI Classic and the 165grain HIT (which is a nickel plated solid copper expanding bullet with a plastic tip). Now I must admit that my first thought was that, yes, the .300 Winchester Magnum is a capable "all rounder", but would I go after buffalo with it? Then I thought back and considered that many elephant hunters of old shot elephant and buffalo with much smaller and less capable cartridges than the .300 Winchester Magnum; and that one of the popular calibers used for elephant and African buffalo was the .318 Westley Richards "Accelerated Express".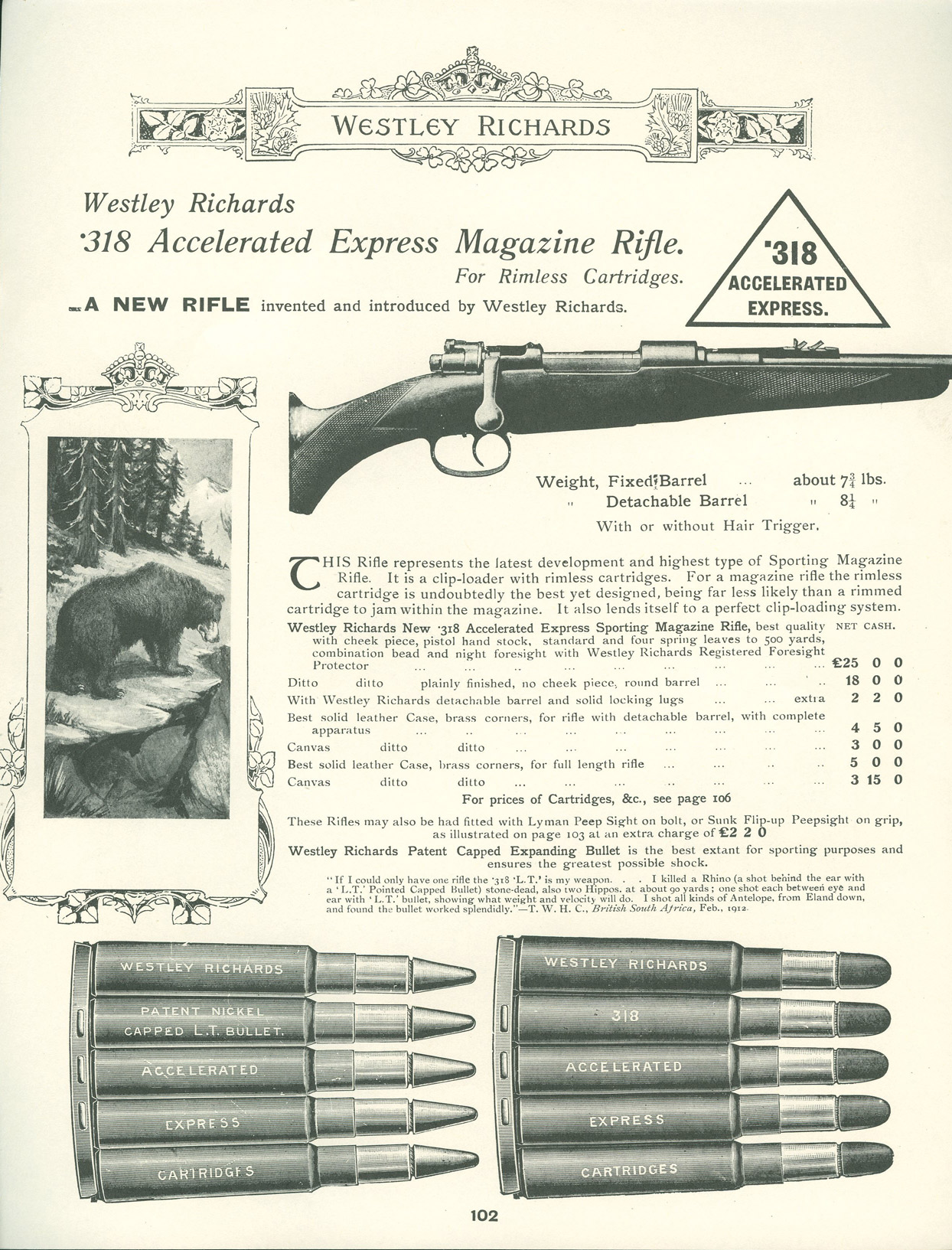 Despite its nomenclature the .318 Westley Richards used a .330″ diameter bullet (i.e. bore size was .318″ and groove .330″) and loadings were either a 180grain at 2,700fps or a 250grain at 2,400fps. What made these loadings elephant killers was their combination of a bullet with high sectional density and sturdy construction combined with relatively high velocities. The effectiveness of course depended on the hunter using brain shots simply because there isn't sufficient power in this caliber to reliably use a heart/lung shot on something the size or toughness of a buffalo or elephant.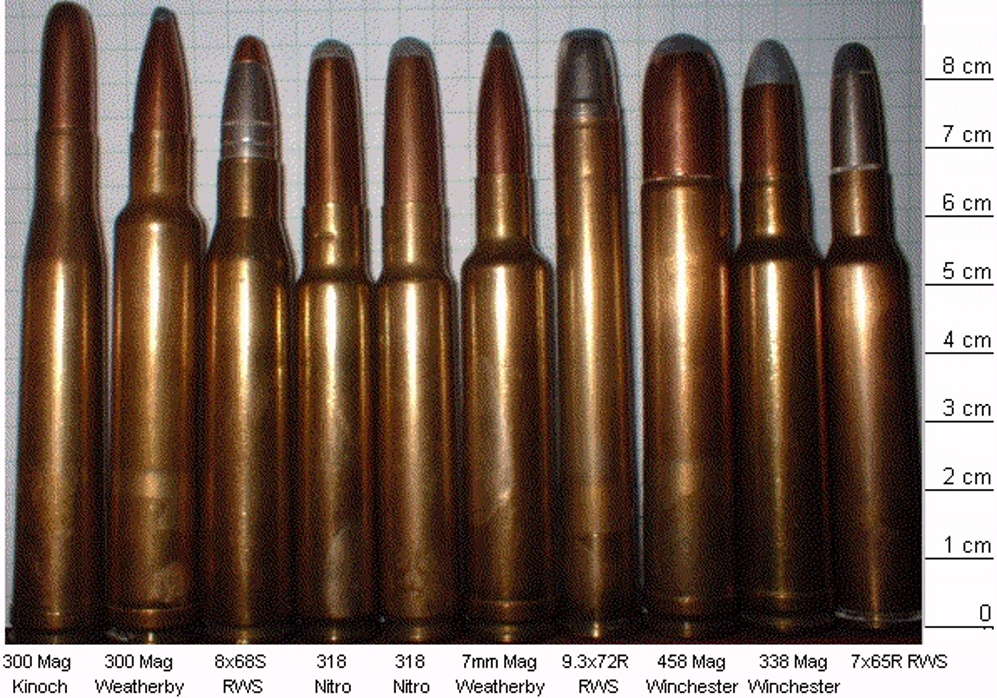 The .318 Westley Richards Accelerated Express is not an easy cartridge to get shooting but ammunition and bullets are available from Midway USA at time of writing. The Westley Richards rifles are very nicely made examples of British rifle making and they are well worth having.

There is a nice looking original Westley Richards full stock carbine in .318 Accelerated Express coming up for sale by Rock Island Auction on May 6th, 2017 so if you have a penchant for top shelf British bolt action magazine rifles this represents and opportunity to acquire one. The near full length stock is a bit unusual and this rifle looks to be a fairly light and quick handling piece.
You will find the sale page for this rifle if you click here.
This rifle is described by Rock Island Auction as follows: "The rifle has a Westley Richards patented hooded post front sight, two leaf express rear sight, tapped receiver for scope mounting, "LT 37964/WESTLEY RICHARDS/.318 ACCELERATED/EXPRESS" on the left side of the receiver ring, a "crown/BV" Birmingham nitro proof on the right, a folding peep sight on the upper tang, and a nearly full length checkered pistol grip stock with shadow line cheekpiece, blank initial oval, and checkered hard rubber buttplate. A hardcase with a Westley Richards & Co. label (dating to circa 1908-1910) and two Kynoch boxes with 14 .318 Rimless Nitro Express cartridges loaded with varying bullet designs."
The condition is described as: "Very fine overall as refinished with 98% plus of the blue finish remaining, minor oxidation/pitting at the muzzle, and some minor handling and storage marks. The refinished stock has crisp freshened checkering, glossy varnish, a seam 1 5/8 inches from the butt, and some slight handling and storage marks. It is mechanically excellent. The case is very good with moderate storage wear and an absent lid plaque."
Expected sale price is in the range USD$4,750 – $6,000.

(Pictures courtesy Rock Island Auction unless otherwise noted).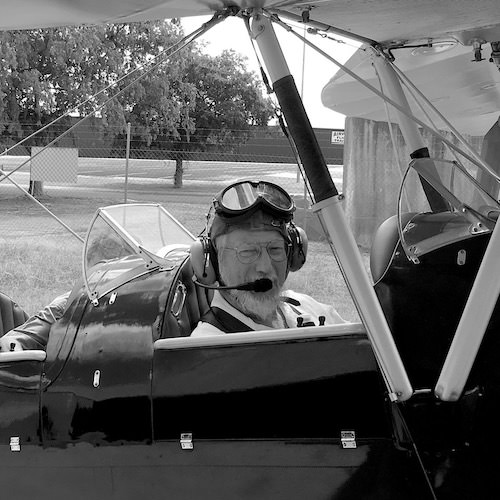 Jon Branch is the founder and senior editor of Revivaler and has written a significant number of articles for various publications including official Buying Guides for eBay, classic car articles for Hagerty, magazine articles for both the Australian Shooters Journal and the Australian Shooter, and he's a long time contributor to Silodrome.
Jon has done radio, television, magazine and newspaper interviews on various issues, and has traveled extensively, having lived in Britain, Australia, China and Hong Kong. His travels have taken him to Indonesia, Israel, Italy, Japan and a number of other countries. He has studied the Japanese sword arts and has a long history of involvement in the shooting sports, which has included authoring submissions to government on various firearms related issues and assisting in the design and establishment of shooting ranges.