There is much debate on the revolvers carried by Sherlock Holmes and Dr. Watson and it is indeed fun to hypothesise on what Sir Arthur Conan Doyle had in mind. It is likely however that these two cased revolvers up for sale by Bonhams at their Modern Sporting Guns auction are the most probable candidates. But before we get carried away let us remember that Sherlock Holmes is in fact a fictional character, and fictional characters don't actually own revolvers. But it is highly probable that Sherlock, in Sir Arthur Conan Doyle's stories, carried either a Webley R.I.C. revolver or a Webley Bulldog. The Webley R.I.C. was a revolver made for and made famous by the Royal Irish Constabulary, this making it an excellent choice for a crime solving private detective back in the days before the British people had their right to keep and bear arms revoked. We mention that because Sir Arthur Conan Doyle was subject to the legislation that did that and his response appears to have been to distrust the government and to deposit his handguns with his solicitor in 1921. Long after his death in 1930 the handguns were discovered in storage and sold in 1974. What handguns did Sir Arthur Conan Doyle have? A .476 Webley WG Model 1892 Army revolver and a .38 ACP Colt M1902 military model pistol. These handguns almost certainly belonged to Sir Arthur's younger brother John Francis Innes Hay Doyle who was a military man and who rose to the rank of Brigadier General prior to his death on 19th February 1919. No doubt the Webley revolver and the Colt pistol had great sentimental value to Sir Arthur and I think he would have been unlikely to have wanted to hand them in to the police for destruction. All that being said both handguns are too recent to be candidates for the revolvers of Sherlock Holmes and Dr. Watson.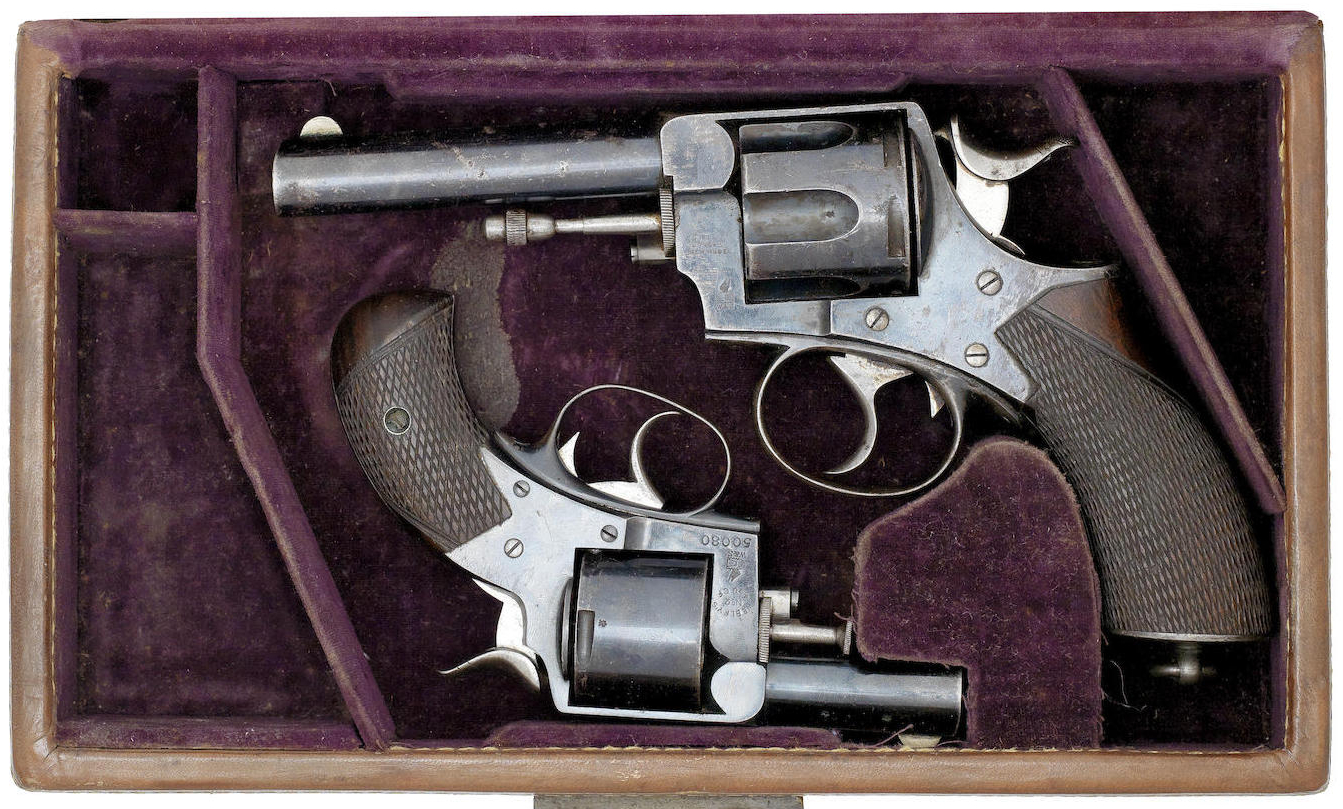 As Dr. Watson was an army medical doctor he is most likely to have carried a revolver for personal defense that was on the small size for a service revolver but chambered for the service ammunition, the .455 centre-fire cartridge. The Webley R.I.C. fits that bill perfectly. Webley's double action revolvers were renowned for their reliability, unlike the Colt's 1877 double action revolvers of that period.
Sherlock Holmes, not being a military man, is likely to have wanted a small and easily concealable revolver. The Webley Bulldog would have been an appealing choice for him. Small, simple and dependable. Sherlock Holmes needed a revolver he could trust his life to.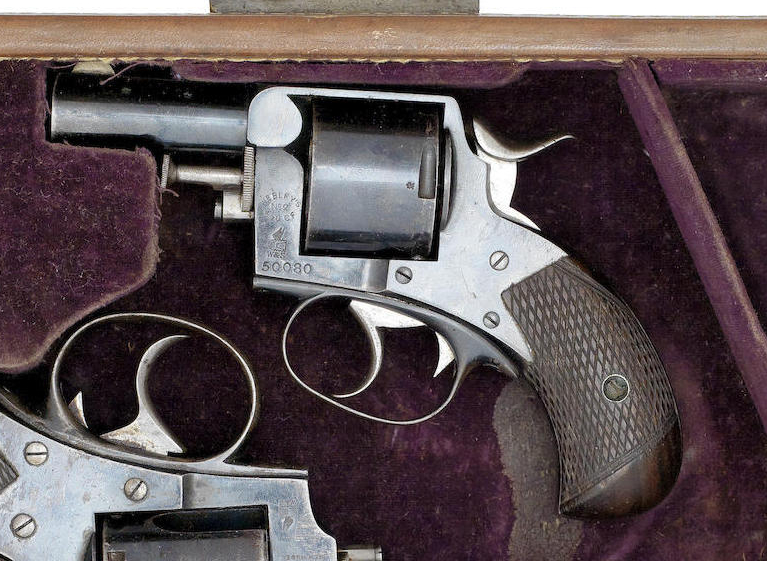 Thus it is that in this revolver case on sale by Bonhams we have two of the most likely candidates as the revolvers of Sherlock Holmes and Dr. Watson. And they make a wonderful display pair, and a great conversation piece.
These cased revolvers were originally sent around Cape Horn to South Australia where they were sold by W.E. Ekins, King William St., Adelaide according to the engraving on them. No doubt if they could speak they would have some stories to tell.
You will find the Bonhams sale page for this cased pair if you click here.
UK buyers should be aware that it is legal for them to hold these revolvers under both categories of s.7 Historic Pistols. You can obtain more detailed information from Bonhams.
The information about Sir Arthur Conan Doyle and his brother and the handguns by Richard Milner and can be found on forums.gunboards.com if you click here.
As Richard Milner's is one of a number of informative comments on that page I have taken the liberty of reproducing his informative segment below:-
"A number of years ago I purchased, through another dealer, the contence of a safe deposit box which had belonged to Sir Arther Conan Doyle, the box contained a .476 WG Model 1892 Army revolver and a .38 Colt M1902 military model pistol. The pistols had been left with Doyle's London solicitors in 1921 when the Firearms Act first became law. It appeared Sir Arthur did not trust the authorities, (how wise) the pistols were stored in the solicitors safe deposit box and appear to have been forgotten when he died in 1930. It was only when a rationalization of the various deposits was undertaken in 1974 that the weapons were found and sold.
    The Webley WG revolver was retailed by the Army & Navy Co-op Stores Ltd. and so engraved on the rib of the barrel. Researching though the ANCSL records I discovered that it had been sold on the 8th March 1893 to J. F. I. H. Doyle R.A. (Royal Artillery) subsequent research into the Army Lists reveal his name to be John Francis Innes Hay Doyle. My search next turned to the Biography of Sir Arthur Conan Doyle, where I discovered that Arthur had a younger brother, named John Francis Innes Hay Doyle, known as Innes. The two brothers were very close and shared a residence together at Southsea near Portsmouth between 1882 and 1885. Later in 1894, when Arthur's books had made him famous,the brothers toured the U.S.A.where Arthur lectured and read from his own works, rather as Dickens had done twenty five years before.
    During the South African War, Arthur volunteered his medical services and went to Bloemfontein where he helped to look after the British soldiers during a typhoid epidemic. It was during this time that he found time to write his book "The Great BoerWar".
    Innes Doyle rose to be a Brigadier General. He served in China in 1900, South African War in 1902, operations in the Transvaal and Orange River Colony, served in WW1, mentioned in Despatches on four occasions and was awarded the C.M.G. and D.S.O. He died on 19th February 1919 and is buried near Brussels.
    The Colt Model 1902 was shipped circa 1915; it had original London Proof marks and also stamped "JJ" on the right side of the frame above the trigger guard. The use of the "JJ" stamp indicates retail sale by the London Armoury Company. It is not thought the records of the L.A.C. still exist, so I could not confirm who originally purchased the Colt.
    It is not known when Arthur acquired the two pistols; possibly they were part of Innes' effects returned to his widow, Clara, who passed them on to Arthur. Both pistols showed the hard work they had done, they had been much carried and little original blue remained, this would possibly indicate their use by Innes for much of their working life, remembering he served both in China and South Africa as well as in France. It is interesting to consider that Arthur would have seen and no doubt handled the Webley at the time he was writing the Sherlock Holmes novels. It seems highly possible that when considering what form Dr. Watson's service revolver would take, he had this Webley "WG" in mind."
    Richard Milner
    Last edited by RichardMilner; 09-04-2012 at 08:33 AM.
(All pictures in this post courtesy Bonhams).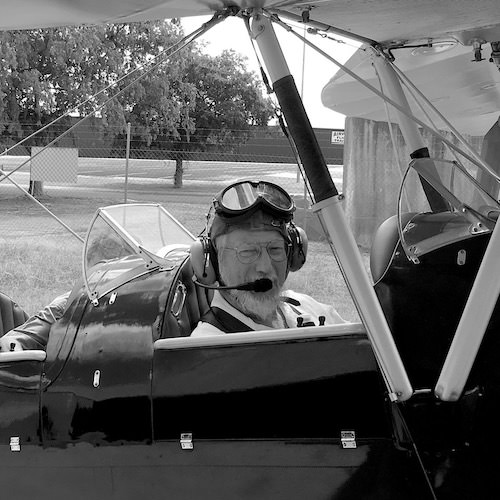 Jon Branch is the founder and senior editor of Revivaler and has written a significant number of articles for various publications including official Buying Guides for eBay, classic car articles for Hagerty, magazine articles for both the Australian Shooters Journal and the Australian Shooter, and he's a long time contributor to Silodrome.
Jon has done radio, television, magazine and newspaper interviews on various issues, and has traveled extensively, having lived in Britain, Australia, China and Hong Kong. His travels have taken him to Indonesia, Israel, Italy, Japan and a number of other countries. He has studied the Japanese sword arts and has a long history of involvement in the shooting sports, which has included authoring submissions to government on various firearms related issues and assisting in the design and establishment of shooting ranges.