Amongst the best of the London "best" guns are created in the workshops of James Purdey & Sons, Ltd. in Audley House, 57 – 58 South Audley Street, London, a short walk from Hyde Park. Established in 1814 and still going strong Purdey have been making "best" guns for royalty and for those with an "elegant sufficiency" of financial resources. In order to have maintained their place as one of the leading gun-makers in Britain Purdey has been delivering bespoke guns and rifles of the highest imaginable quality throughout their long history.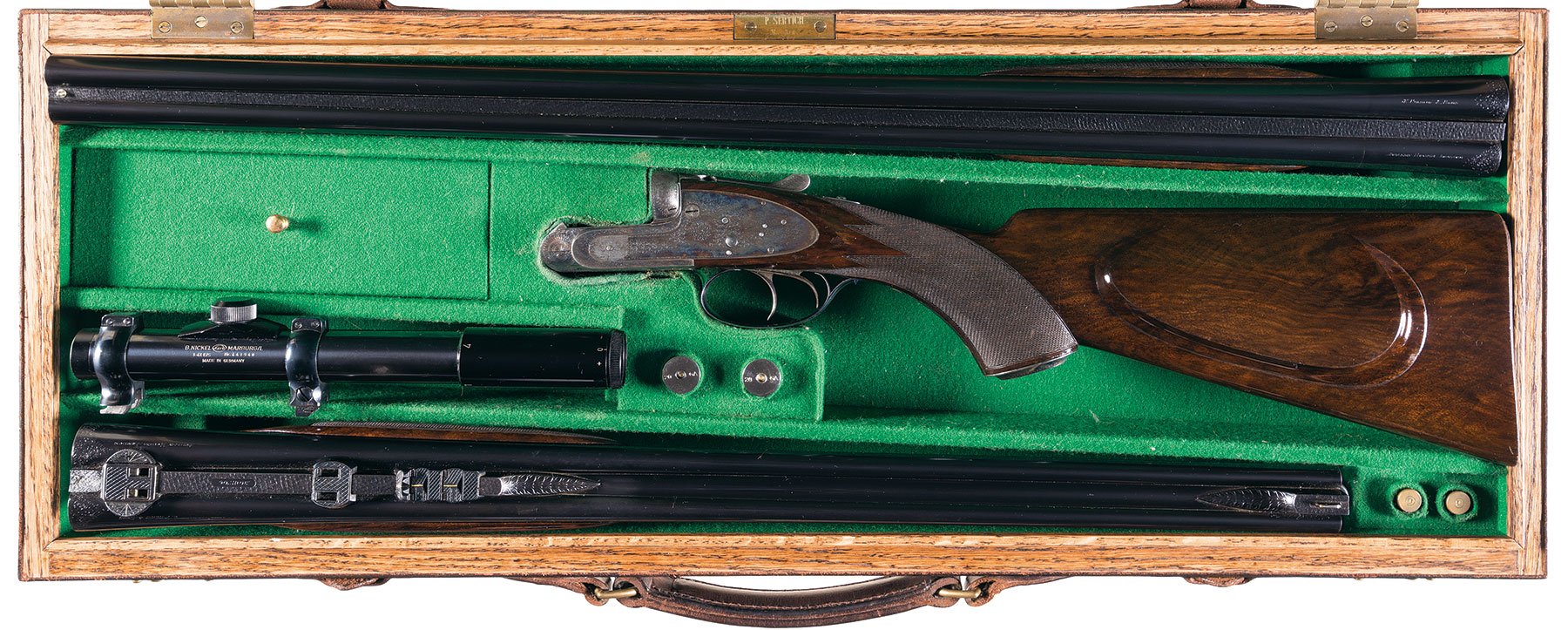 Purdey's guns and rifles are of course rather expensive but from time to time good examples of their workmanship appear for sale at affordable prices providing an opportunity for those who aspire to owning one. The double rifle and shotgun set pictured above is one of these. We don't have access to the date when this set was made and delivered although Purdey will without doubt have this gun serial number #13285 listed in their books and will be able to answer that question exactly along with the name of the original purchaser. Purely looking at the rifle-scope, which is a German Nickel Supra 1-4x E/S, should place its making in the pre-war thirties or post war fifties and sixties. These rifle-scopes were commonly fitted to British made rifles in the fifties up into the mid-sixties as were the German Ajack and Pecar.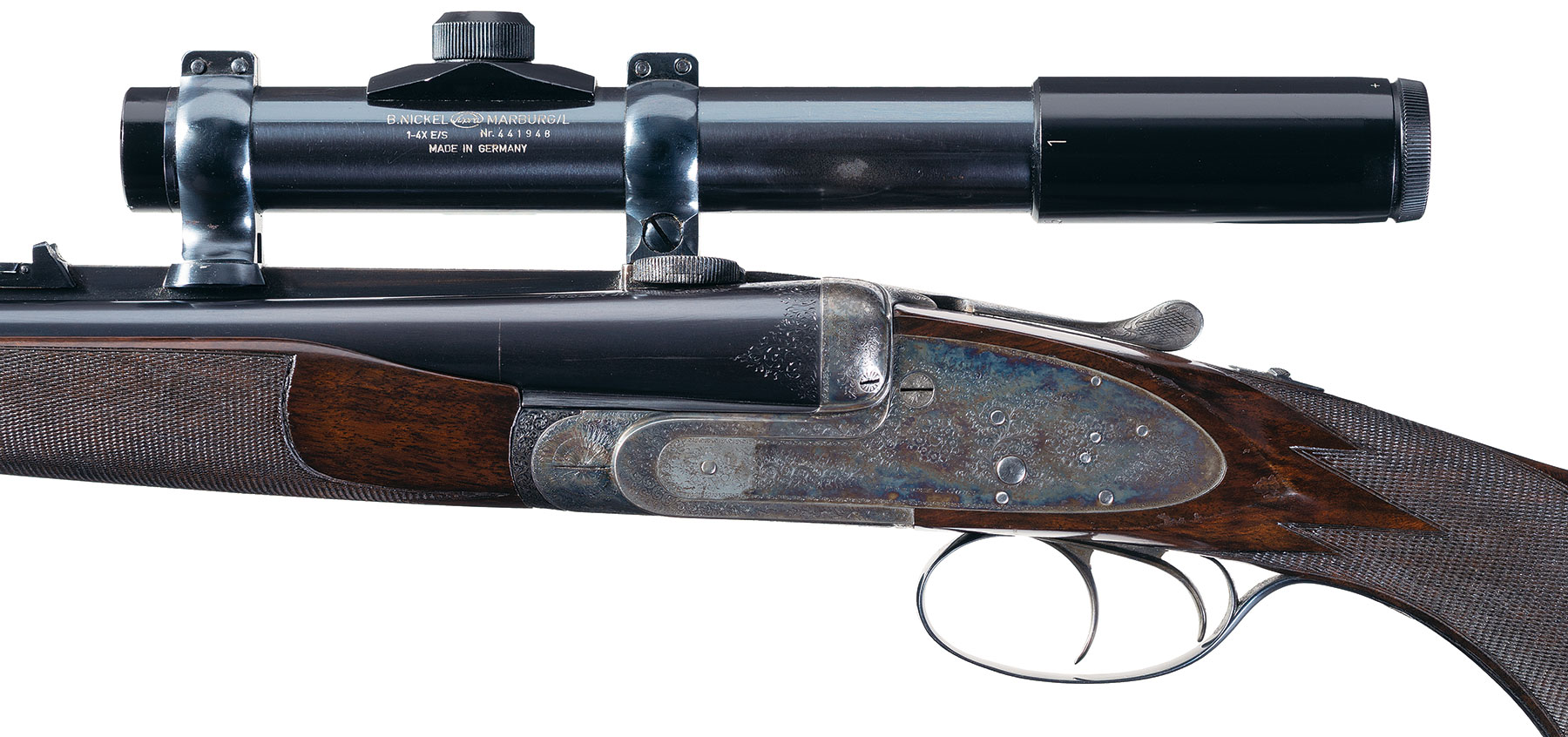 Although we commonly associate British double rifles with Africa and dangerous game they were and still are frequently made for hunting in Britain and Europe and will be found in calibers from 7mm up to 8mm as deer stalking rifles. So this particular set with 30-06 rifle barrels and 20 gauge shotgun barrels is a sensible and practical kit for most British and North American hunting. The quick detachable rifle-scope variable power of 1x-4x provides a wide field of view for close range shooting or driven game and enough magnification for longer shots out to 300 yards or meters. The open sights comprise three open "V" rear leafs with two folding graduated for 50yards, 150yards, and 200yards, with a raised ramp blade front sight. The rifle-scope rings look to be 1″/26mm so it should be possible to install a more modern rifle-scope on the rifle without difficulty if desired, although the Nickel Supra rifle-scope fitted very much suits the style of the rifle and it is listed as being "near mint" with "crystal clear optics".
The barrels provided with this set comprise a 30-06 rifle barrel that is 24⅜" long and a 20 gauge shotgun barrel that is 28″ long and chambered for 3″ cartridges. In addition to the under lugs the action features a top wedge providing top and bottom locking. The rifle and shotgun barrels have extractors and the shotgun chokes are Modified and Improved Modified. Both barrels have been sleeved and re-proofed.

This set comes in a compact and easily portable lined oak case complete with brass corner protectors and hardware, a leather carrying handle, double leather straps and green wool felt lining in typical British "best" gun style. Stock dimensions are: Length of pull is 14 3/8″, drop at comb 1 9/32″; drop at heel 1 29/32″ cast 0″, toe in 1/4″, and overall weight is 6 lbs. 7.8 oz.

This rifle/shotgun set is coming up for sale by Rock Island Auction on September 9th, 2017.
You will find the sale page for this set if you click here.
The condition of this set is described by Rock Island Auction as follows: "Very fine. Both sets of barrels, the trigger guard and the forearm hardware retain 99% refurbished blue finish with only slight handling marks. The remaining metal surfaces retain almost all of the factory refurbished bright case colors with a 3/4 in an inch area on the front of the left side plate faded to gray. The refinished wood is also very fine with a few minor bruises on the shotgun forearm, a light scuff on the bottom of the stock at the toe and a few minor dings and dents overall. The rifle barrel forearm is fine with only light handling marks. All of the checkering is very crisp. All markings and engraving are crisp and clear. Mechanically excellent. The scope is near mint with 98% of the finish, light handling marks, a small area of pitting and crystal clear optics. The case is near excellent with a few minor scuffs on the exterior, and there is a small area of the lining that has come loose; otherwise, the lining is excellent."
Expected sale price is in the range USD$9,500-$16,000
This is an opportunity to obtain a genuine James Purdey & Sons Ltd. double rifle and shotgun set at a quite reasonable price. This is a gun one could get much pleasure from both just owning it and of course from using it.

For those who might be thinking of a new rifle or gun from James Purdey & Sons you can browse their web site if you click here.
You will find their latest catalog in downloadable PDF format if you click here.
You will also find a previous Revivaler post on Purdey's self opening guns and rifles if you click here.

(All pictures courtesy Rock Island Auction).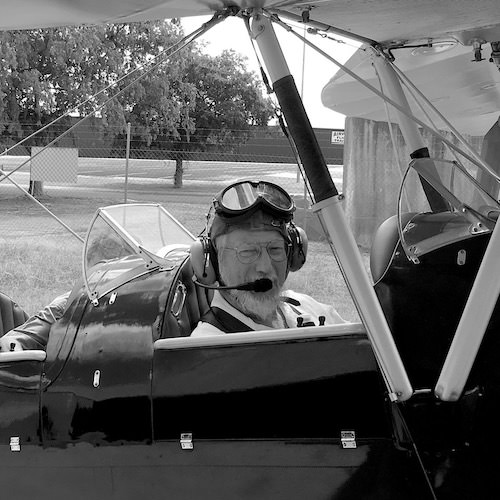 Jon Branch is the founder and senior editor of Revivaler and has written a significant number of articles for various publications including official Buying Guides for eBay, classic car articles for Hagerty, magazine articles for both the Australian Shooters Journal and the Australian Shooter, and he's a long time contributor to Silodrome.
Jon has done radio, television, magazine and newspaper interviews on various issues, and has traveled extensively, having lived in Britain, Australia, China and Hong Kong. His travels have taken him to Indonesia, Israel, Italy, Japan and a number of other countries. He has studied the Japanese sword arts and has a long history of involvement in the shooting sports, which has included authoring submissions to government on various firearms related issues and assisting in the design and establishment of shooting ranges.