Fast Facts
This 1926 Daimler 45 hp was known as the "Star of India' and was used by the Maharaja of Rewa for tiger hunting.
The car's custom bodywork by Barker & Company of London is made of "German Silver" which is an alloy of nickel, copper and zinc, so it does not contain any actual silver.
The Maharaja's method of hunting tigers involved a trained monkey on a long string, an interesting book, a nice comfy chair, and a heavy calibre rifle.
A Car For a Maharaja and the Sport of Shikar
For Indian Maharajas the sport of "Shikar" (tiger hunting) was often popular, in part because of the challenge of risking one's life in the face of one of the world's most cunning and dangerous foes, and in part because for a ruler to face what were often man-eating tigers and kill them was looked upon with great gratitude by the villagers whose families and friends were in danger of becoming one of the tiger's victims.
If you've ever needed to walk a path alone in a place where potentially dangerous animals might be encountered you will tend to appreciate this with vividness, especially if you were not armed at the time.
The Maharaja of the Indian State of Rewa was a man who was raised in a family in which the sport of Shikar was very much esteemed and so he took it up earning himself the appreciation of the village people of the State of Rewa, and also earning himself a reputation as a courageous man who appreciated fine rifles in large calibres. He became particularly well known for his penchant for four bore rifles: he also became known for his taste for expensive automobiles of exquisite quality and flawless engineering.
Shooting Your Tiger: Equipment List
The Maharaja of Rewa had his own tried and true method for hunting tigers and there were a few essential items required for one of the Maharaja's tiger hunts.
A heavy calibre rifle or gun.
A trained monkey on a long string.
A nice comfy chair
An interesting book.
An army of disciplined beaters, normally taken from the Maharaja's private army.
The first piece of tiger hunting equipment is, of course, a suitable rifle or gun: the difference between them being that a rifle is fitted with a rifled barrel or two while the gun is typically smooth bore perhaps with Holland & Holland "Paradox", Westley Richards "Explora" or "Lancaster oval bore" rifling.
Close encounters of the tiger kind are rather dangerous to one's health and normally occur in thick jungle, so the sensible choice of gun or rifle is one that has both the bullet weight and diameter that when shot the tiger will immediately think "I'll just lie down and die now and save everyone a lot of trouble".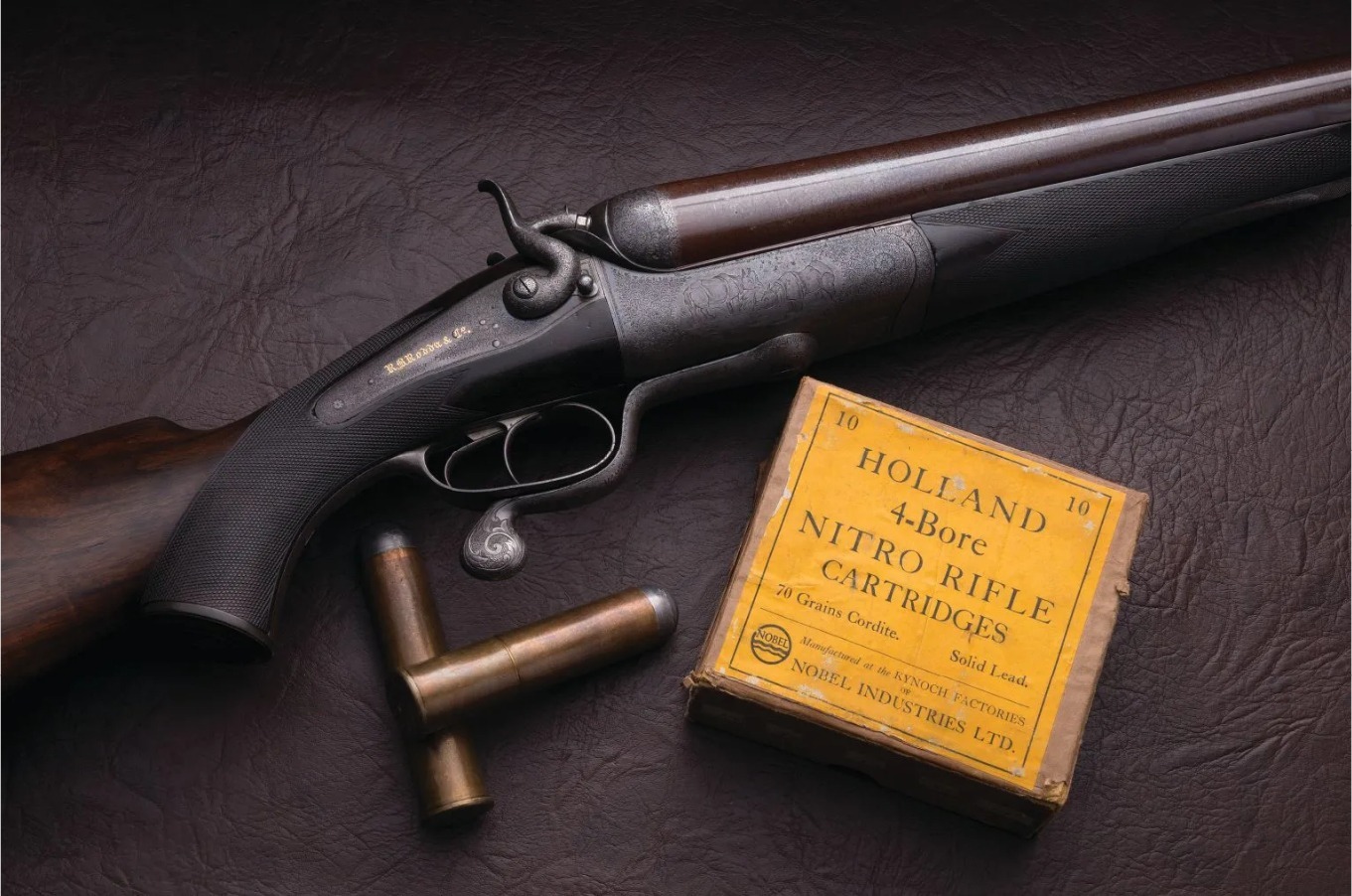 For this reason Indian princes tended to purchase heavy calibre guns that would provide the sort of life insurance desired. One that could fire a bullet so heavy that it would plough through the jungle and through the tiger with unstoppable force. To this end rifles such as the 600 Nitro Express were used, typically loaded with soft point bullets which would expand rapidly as they passed through the tiger.
The bore guns were also a popular choice especially the eight bore and four bore: in recent years American gunsmith Ken Owen created a beautiful four bore double rifle which he dubbed the "Owen-Rewa", the Maharaja of the Indian State of Rewa being famously rather fond of the four bore double rifle, so much so that he had London rifle maker Holland & Holland make him a nitro express four bore double rifle – it was the only one Holland & Holland ever made.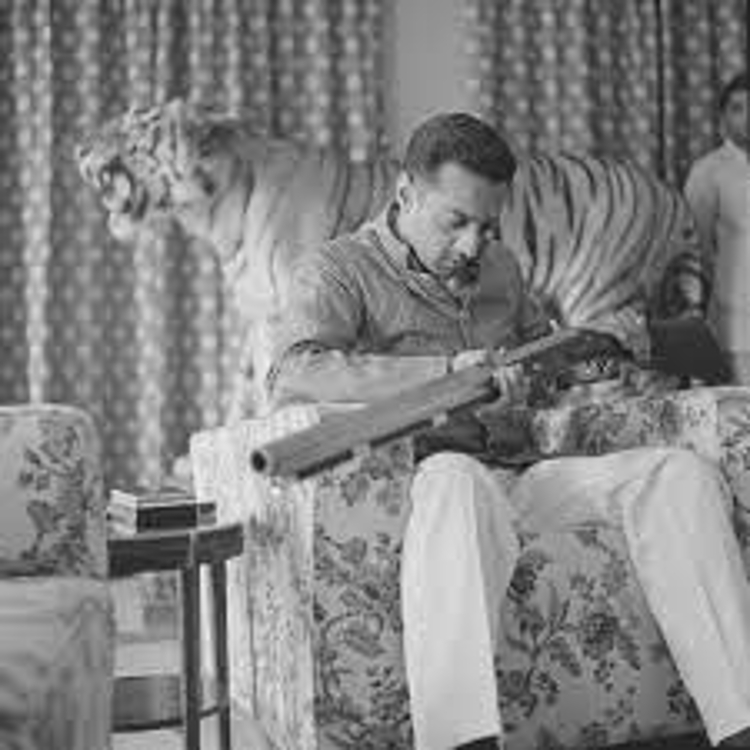 The heavy calibre rifle being an obvious item needed for tiger hunting let us now turn our attention to the trained monkey on a long string, the interesting book, and the nice comfy chair.
The Maharaja of Rewa's preferred method of tiger hunting was to organize a large company of beaters to drive any tiger in their path towards the waiting Maharaja. The Maharaja would first send his trained monkey up a suitable tree: if the monkey became aware of an approaching tiger it would make a cough noise of alarm – thus alerting the Maharaja that the game was afoot!
The Maharaja would then ensconce himself in his nice comfy chair and begin reading his interesting book while he waited for his monkey to cough and alert him of the tiger's approach.
The "Star of India"
In order to get to the Maharaja's chosen hunting spot a reliable and luxurious automobile was required and Maharaja Gulab Singh of Rewa was a car aficionado of immaculate taste. He owned not only a number of Rolls-Royces, and Hispano-Suiza cars: but perhaps his most delighted in were his Daimlers. Daimler were at that time the preferred automobile of the British Royal Family and so it was natural for the Maharaja to want to own such "Royal" cars for himself.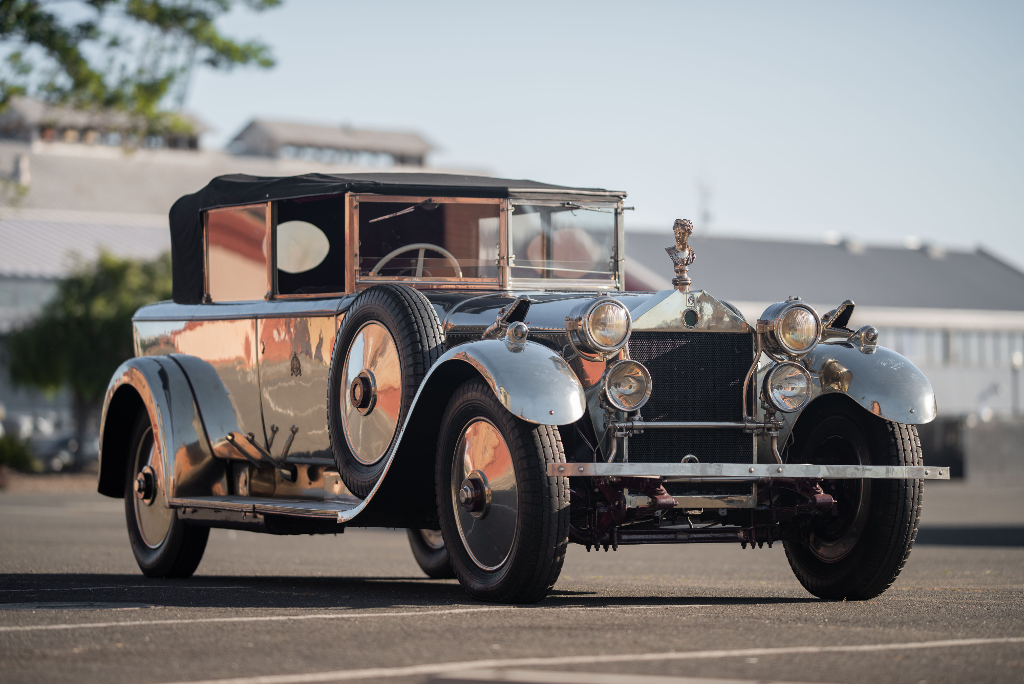 The Maharaja purchased a Daimler 45 hp rolling chassis in 1926 for the then princely sum of £1,400 and had it taken to custom coach-builders Barker & Company of London for the creation of its bespoke bodywork. This bodywork was to be of German Silver over a wooden frame. German Silver is not actually silver but an alloy made of nickel, copper and zinc. This produced a durable corrosion resistant body which did not require paint and was readily able to be cleaned and polished to make it dazzling to look at, hence it acquired the name "Star of India".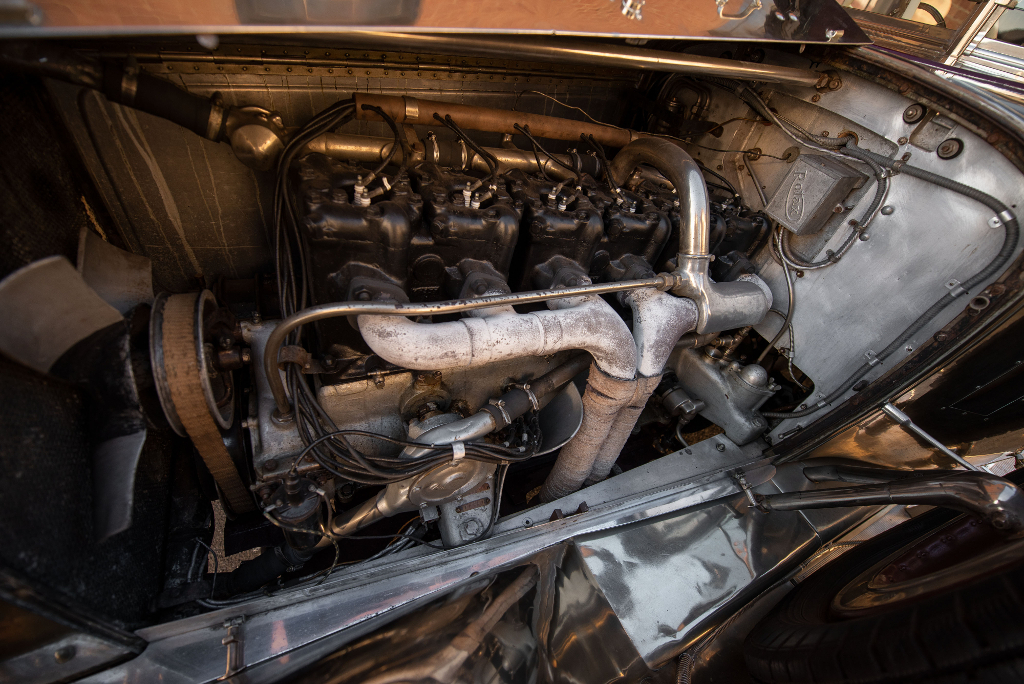 The "Star of India" was powered by a 7,413 cc six-cylinder sleeve valve engine and drove the rear wheels via a cone clutch, four speed manual gearbox and worm type final drive. The sleeve valve system was originally created by an American engineer named Charles Yale Knight and was notably used by both Daimler and French automobile maker Avions Voisin.
Sleeve valve engines are famous for their silence of operation, thus a sleeve valve powered car would be a preferred choice for silently cruising along jungle tracks to find a perfect spot for setting up the comfy chair in anticipation of the arrival of a tiger.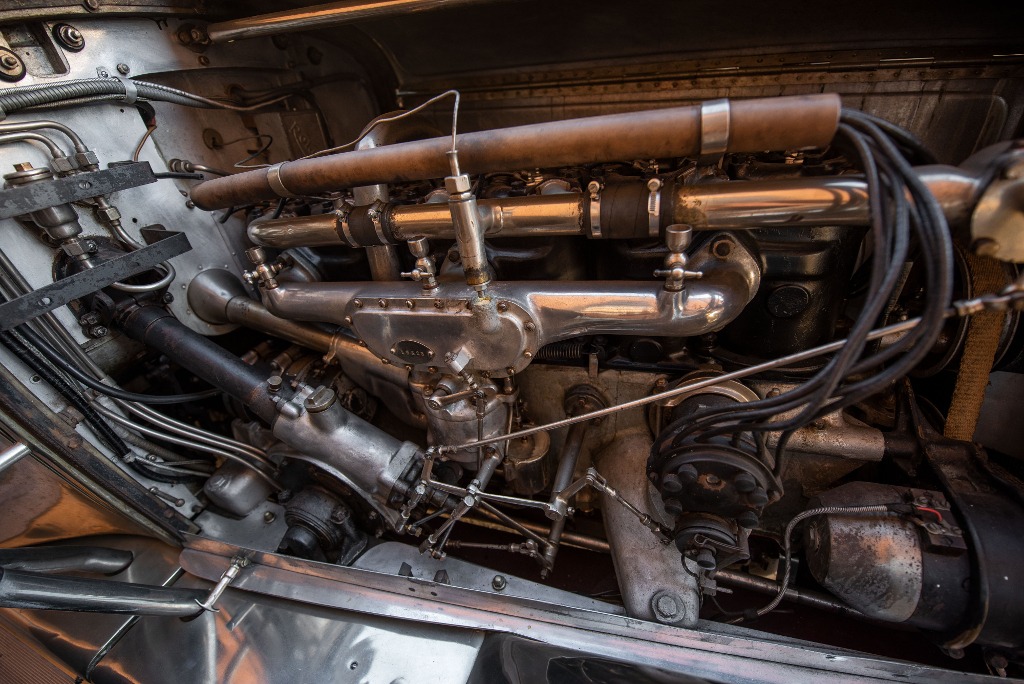 The style of bodywork the Maharaja chose was that of a "salon cabriolet" which provided an open car when the weather permitted or when the car was being used as a hunting car, and a soft top with side windows for times when protection from the rain was needed or when privacy was desired.
To provide privacy the car was fitted with double sets of side windows, one set of plain glass and the other of darkly smoked Triplex "purdah" glass.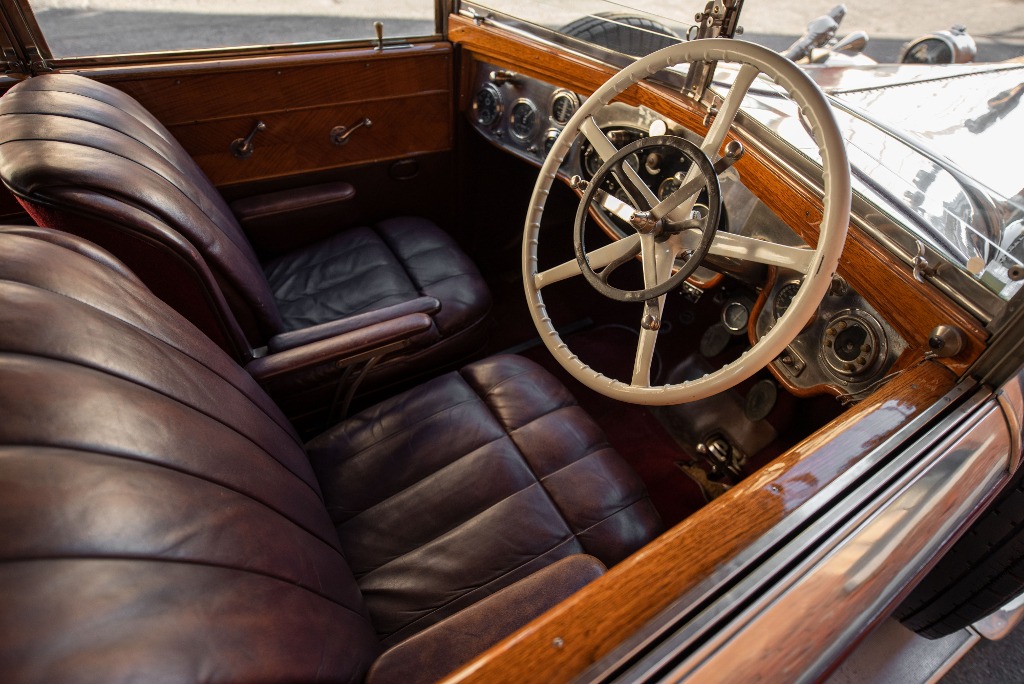 One of the purposes for the double side glass was to provide privacy for the Maharaja's two wives when they were traveling in the car.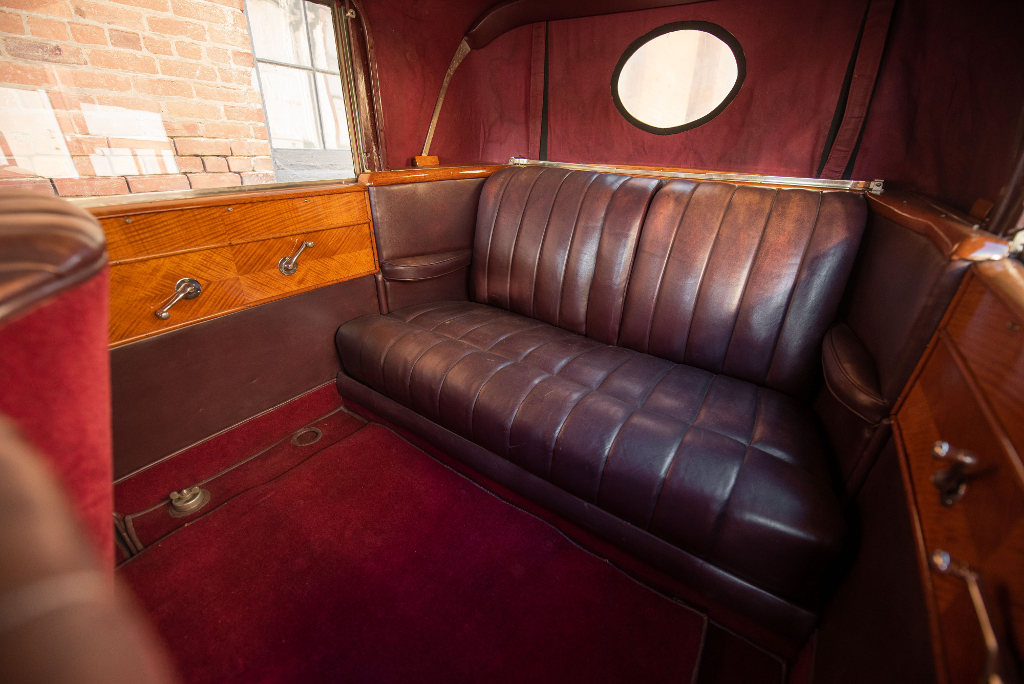 The dashboard fitted to the Star of India was one to satisfy the Maharaja's understanding of engineering, he genuinely wanted a range of instruments to keep him informed of the state of the engine. So there were a speedometer and a tachometer along with water and oil temperature gauges. As befits a vehicle that will be used in natural environments there was also a gradient meter to measure the car's angle and an air temperature gauge to monitor the temperature of the outside air.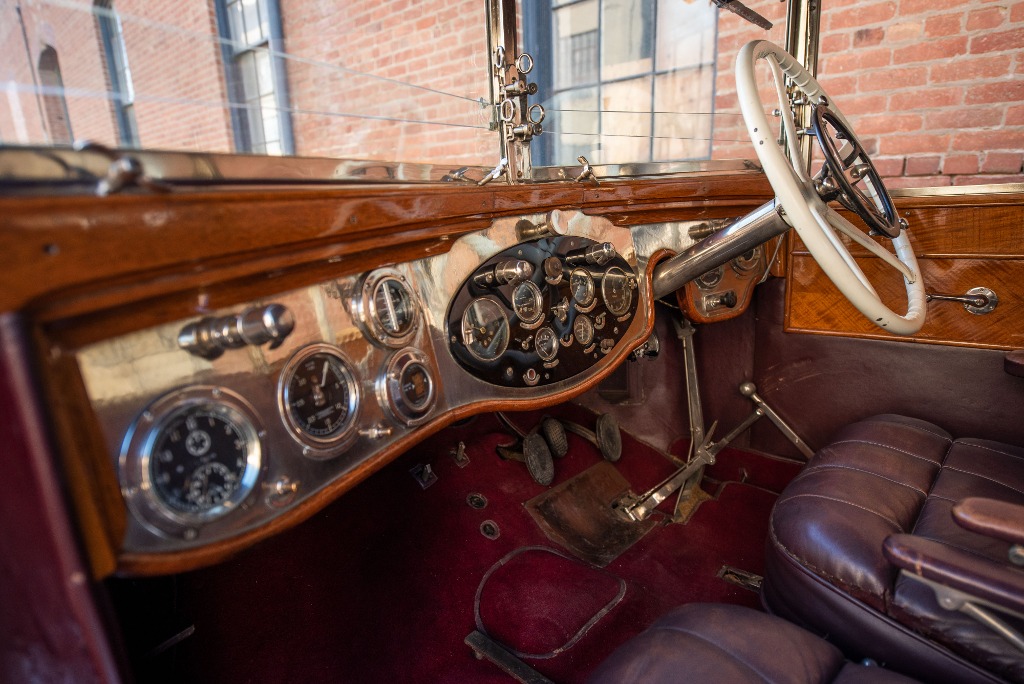 The external equipment of the Star of India featured a pair of headlights and a pair of auxiliary driving lights by British maker Lucas (often referred to by the nickname "Prince of Darkness", and a pair of "boa constrictor" horns to warn locals and wildlife of the Maharaja's approach.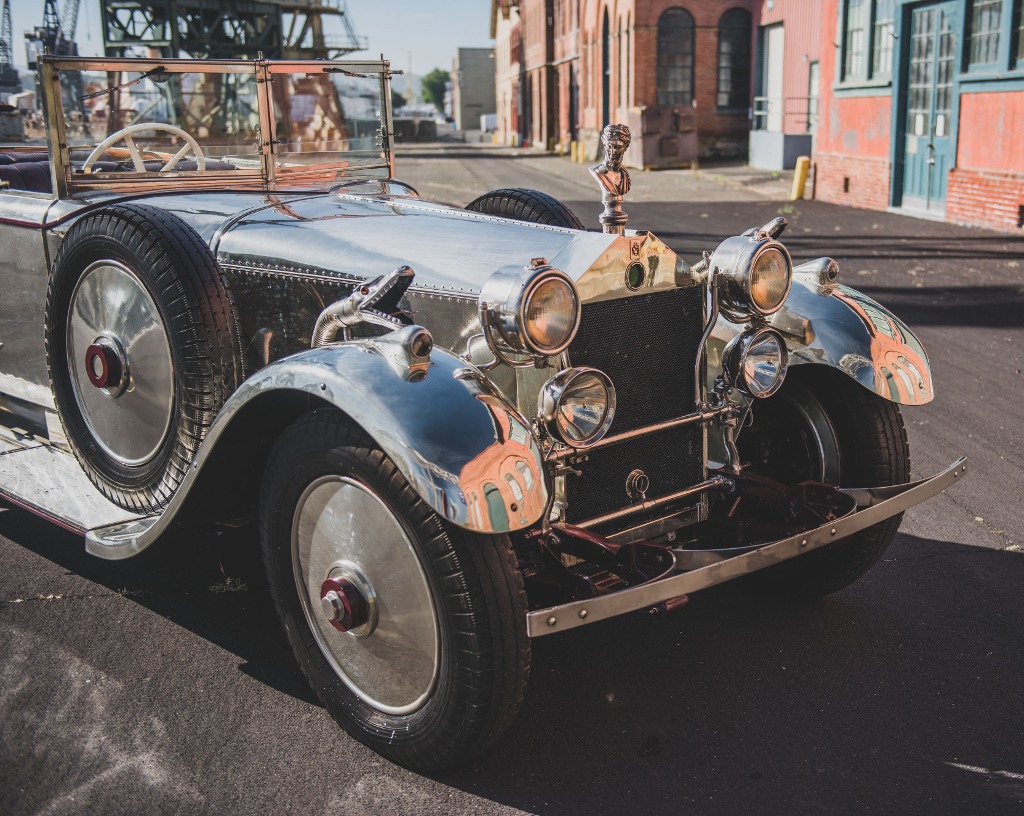 At the rear of the car were a pair of Toby tail-lamps which look like miniature old style diver's helmets.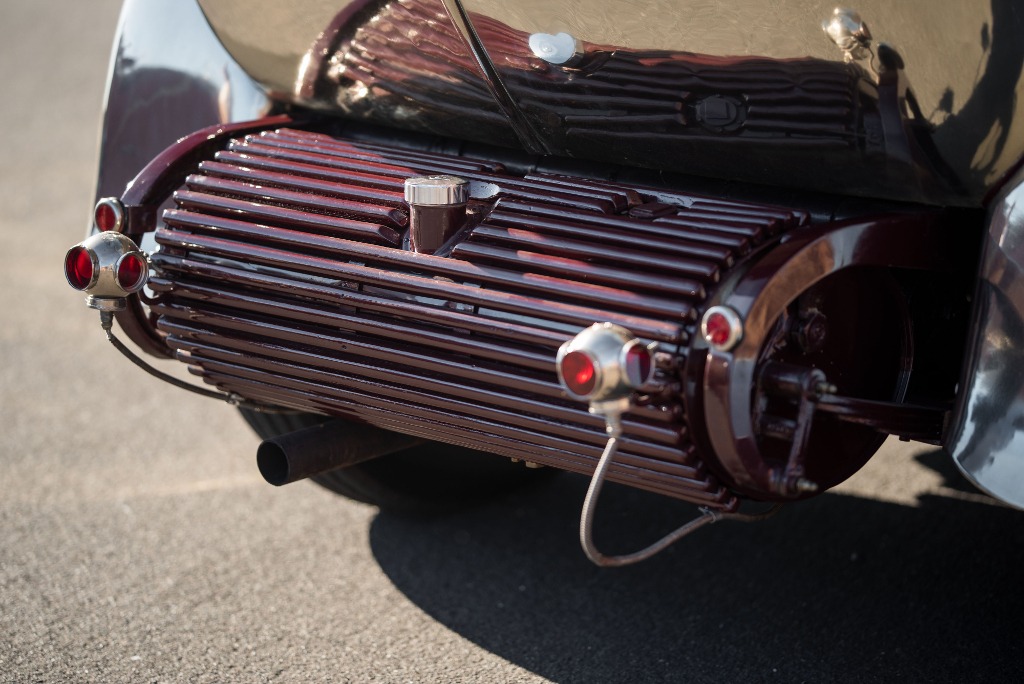 The Maharaja was able to enjoy the Star of India until he was forced to retire into exile in 1942. It was then used by his successor and it may have been during that period that the impressively ornate radiator ornament was added.
There was subsequently a story created that claimed the car had been abandoned in the jungle and had been rescued in the 1960's by putting the car in a sling supported on its four corners by elephants. It would appear however that this lovely romantic story was a case of a journalist following the journalist's motto of "Never let the truth get in the way of a good story". Isn't it funny that some aspects of journalism haven't changed with the passage of time.
The Star of India nowadays resides in the United States and is prepared to be passed on to a new owner. It is scheduled to be offered for auction by RM Sotheby's at their Monterey Auction which will be held between 18-20 August 2022.
You will find the auction page for this car if you click here.
Although, sadly, the royal sport of Shikar is no more, yet the Star of India could still gift its new owner with a taste of times gone by at the height of the "Raj" when India was the exotic and tempestuous "Jewel of the British Empire". It would indeed be a comfortable hunting car whatever one was hunting for, even if the hunt were not for Shere-kan.
Photo Credits: All pictures of the Daimler "Star of India" by Darin Schnabel courtesy RM Sotheby's.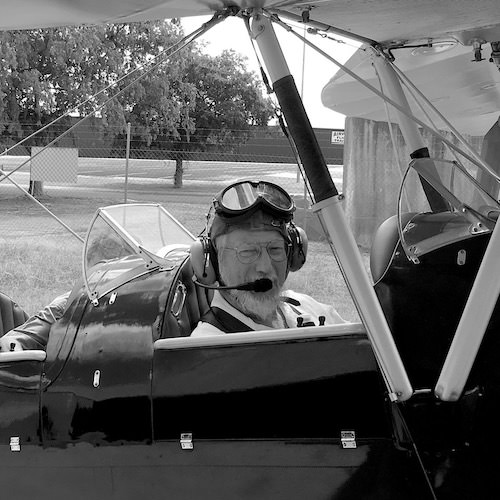 Jon Branch is the founder and senior editor of Revivaler and has written a significant number of articles for various publications including official Buying Guides for eBay, classic car articles for Hagerty, magazine articles for both the Australian Shooters Journal and the Australian Shooter, and he's a long time contributor to Silodrome.
Jon has done radio, television, magazine and newspaper interviews on various issues, and has traveled extensively, having lived in Britain, Australia, China and Hong Kong. His travels have taken him to Indonesia, Israel, Italy, Japan and a number of other countries. He has studied the Japanese sword arts and has a long history of involvement in the shooting sports, which has included authoring submissions to government on various firearms related issues and assisting in the design and establishment of shooting ranges.